When the president-elect pledged to facilitate a $1 trillion infrastructure-spending binge, exchange-traded funds with "infrastructure" in their name seemed like a sound way to cash in.
But that narrative was upended on Wednesday when the biggest product in that category — the iShares Global Infrastructure ETF (IGF) — suffered over $161 million in outflows; its largest one-day withdrawal on record.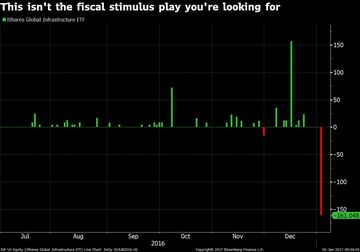 Those hunting for the proximate cause of this exodus are less likely to find it in the taunts Donald Trump lobbed at Senate Democratic leader Chuck Schumer, who has expressed support for the future president's infrastructure plan, than in the realization that with these funds, the wrapping paper often belies the present.